Much love has been tossed my way, and it's about time I wind up and pitch some of it back. (I apologize if I have missed anything--I think we have already ascertained that I suck at this stuff.)

Hope at Hope for the Hopeless, Kathryn at Seeking Sanity, Flea at Flea's World, AND the Sports Mama at You Don't Have to Like Me all say it's excellent around here!




I'm passing it on to these excellent blogs: Jen at And Then Sum, Becky at Adventures in Mommyhood, Catwoman at Canadian Thoughts in Texas, Driving with the Breaks On, Niki at ImposterMom, Madame Queen, Leah at O Momma Writes, Jenn at Life on the Roof, and Leanne at Tired Mama.

MamaGeek at What Work's for Us gave me this:




Thanks, MamaGeek! I'm passing this one on to Tootsie at Vintage Thirty, Vanilla Icing, Deb at Three Weddings, Blender Kimmy, and FireMom.

Pam at Random Thoughts says I'm fabulous!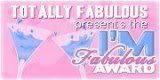 I happen to think a WHOLE lot of people are fabulous, but I'll just pass this on to Veronica at Sleepless Nights, Mishelle the Secret Agent Mama, Misty at Rainy Day in May, Kidzmama at Not a Spare Minute, and Cecily at My Chaos My Bliss.

Tammy, who proves that Mom Knows Everything loves this here blog:




I'm sending some Valentine's Love to Sophie at A Hole in the Fence, my daily entertainer at Anglophile Football Fanatic, HRH at June Cleaver Nirvana, Sandy at Momisodes, Jayna at My Longest Year, Colleen at Wine Please, Jen at Rants and Raves, Red Pen Mama, and Karen at The Rocking Pony.

Sandy, the star at Momisodes, sent this my way: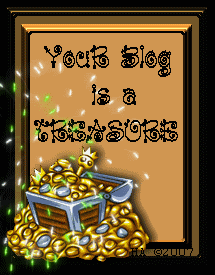 This one goes out to All Adither, Cara Mama, My Little Corner of Life, Nap Warden, Playgroups are No Place for Children, Such Simple Pleasures, That Voice in My Head, Hallie at Wonderful World of Wieners, The Sports Mama at You Don't Have to Like Me, and all of you that have recently stumbled upon my world.

Thanks so much to all of you for reading my boring drivel from time to time!