I am the Queen of 97%. I've always been the Queen of 97%. The proof is everywhere. Alexis' chair? 97% reupholstered. The curtains for the family room and kitchen? 97% done. The front yard landscaping? 97% done.

And then there is our dining room.

In theory, it's more than 97% done. All that is left is to finish sewing two curtains. It'll take maybe two hours. Rather than just finishing them, I'll probably spend a few more months procrastinating, but that's just because it's so much more fun to think about what you need to do rather than just getting it done.

Despite my expert procrastination skills, I thought the dining room was going to be the first room completely finished. Just for the record, this is what it started out looking like:




Of course, that photo conveniently doesn't show the giant hole in one wall, but whatever. The point is that the dining room used to be contractor primer white accented by a shade of gray that can best be described as the exact color of the dead mouse I found in my pajama drawer when I was six.

The hole and the dead mouse are now gone. Like I said, all that's left is to sew a couple of curtains. See:




Almost done.

Or so I thought. Kind of.

You see, something has been bugging me in there. I couldn't put my finger on it, but there was something about the whole room that I didn't quite love.

And then I got the email from Short Brush Stroke Painting making a donation to Christmas Crazy. (Psst. . . Have you donated yet? Because you should.) A little clicky click and it came to me.

AGGLE FLAGGLE KLABABBLE.

It's the paint.

*INSERT MORE NOT-CUSS WORDS THAT ARE CUSS WORDS.*

I can't utter the words out loud because that would result in Mr. Husband getting acquitted for homicide because JUSTIFIED. Painting that room SUCKED ROTTEN DINOSAUR EGGS. The wall to the right of those photos is two stories tall and that paint color ends up wrapping all through the loft and all the way down the hall. It's a lot of paint.

That I hate.

Like, really. I hate that paint. I picked it. I still hate it. Why did I pick a neutral color? I don't do neutral. At all.

Gah.

Mr. Husband, I'm not saying we should repaint that room. I'm saying it's going to bother me forever and ever and ever and each time I walk in there I'm going to cuss under my breath because I want it to look more like this: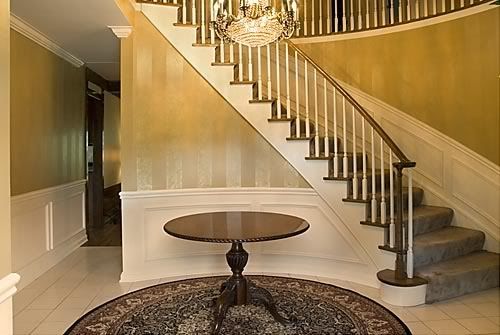 (Image totally ripped off from Short Brush Stroke's site)

And if the rest if you don't hear from me for a while, it's because I'm in hiding from a husband who probably still has blisters from painting that room the first time.