For about a month now, the dogs have been doing the unthinkable--they have been obeying commands from the Toddler. Sit, come, stay, suddenly they do it all for her. The whole time this has struck me as really odd.

I taught both pups a number of commands when they were young and easily bribed. Jasmine (aka "The Smart One") knows sit, down, stay, roll over, beg, come, shake, gimme five, and play dead. Meg (aka "The Not Smart One") knows sit, down, speak, stay, and come. If I am the one giving the commands, they obey approximately 92.836% of the time. However, if Mr. Husband is giving the commands, the percentage drops significantly. Obviously, they know who the real boss is around here. Either that, or they fully realize that they need to stay on my good side if they want to continue to live here.

Now, if they won't listen to the guy that feeds and walks them, why listen to the short one with the chipmunk voice? You know, the one they could eat if they were to decide she looks tasty? I wouldn't really say that they "like" her. They tolerate her, and I suspect that they only do that because she has extra holes in her face that cause her food to drop to the floor all the time. Seriously, why obey her?

I think I found the answer tonight. I was making dinner, which any parent of a toddler can tell you is an, um, let's call it an "adventure." In my house, one of two things happen: either the Toddler does her best to use me as her personal tree house, or she disappears upstairs doing heaven knows what. Tonight was one of those nights when I didn't have a clue what she was up to. As I was debating whether I preferred to have my knees used as rungs on a ladder, or to find that the Toddler was putting giant powder fresh "stickers" on the bathroom wall (again), silence caused my curiousity to get the best of me. Given the fact that our house still isn't what I would call Toddler-proofed (we're waiting until she's a teenager), that was probably the right choice. Especially since I discovered a dirty little secret: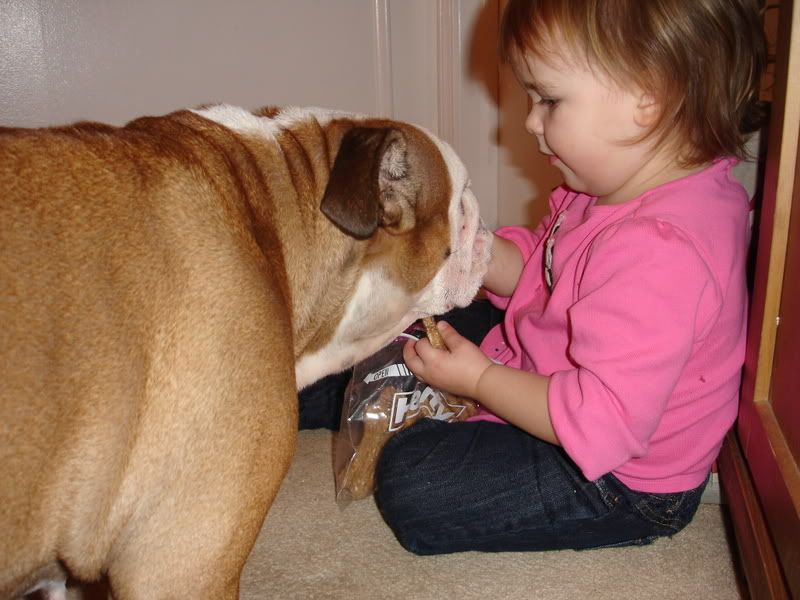 A while back, I baked a poo-load of dog treats. I had originally intended to sell them on Etsy (totally organic, peeps!), but never quite got around to photographing them. Then I stopped having the time for such crazy endeavors. So I figured I would ship some to a few friends and feed the remainder to our dogs. In the meantime, I just stuck them all in a big bag. One day when I was cleaning, I needed to move the bag out of the way and set it down in the hall. And promptly forgot about them. A few days went by and the bag did what all things around the house that are out of place tend to do, it became invisible. Despite walking by it all the time, I completely forgot about it.

Alexis must have discovered it. She, of course knew what the treats were. Apparently, she started doling out treats to the dogs whenever I wasn't paying enough attention. The bag? is over half gone. The dogs? have been bribed into compliance.

Two mysteries solved. I now know why the dogs listen to the Toddler more than they do Mr. Husband AND I know why Meg has been stinking the place up even more than usual, if that's possible.