Look out Peyton, Alexis has a new boyfriend. And boy howdy! does he know the fastest way to her heart. Three words: Sandra Boynton books.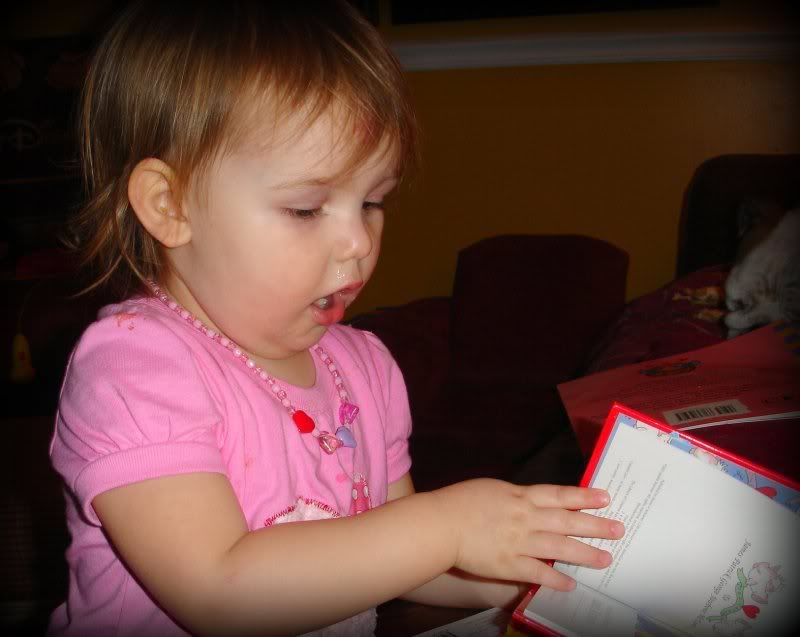 Why yes, Alexis is being courted by an older man. The mystery man is none other than Sweetie Darling himself, the future King of Texas, and genius son of Anglophile Football Fanatic. In all fairness to Peyton, Sweetie Darling has been getting some help from his Mom. I'm pretty sure she had a little something to do with the Valentine's Day present that showed up on Miss Alexis' doorstep today.

By the way, I totally knew said package was coming because AFF? She is a dork. A little while back, Karen was holding a contest for a free t-shirt. AFF REALLY wanted to win. She wanted to win so bad that she revealed at least fifteen embarassing stories about herself. All through the contest, she would send me lovely little messages like, "If I don't win, that pony is gonna quit a-rocking cause I'm gonna @#%# kick it's @#%." (Those may or may not be the actual words she used.) Somewhere amongst her threats, she said that if she won, she was going to ask for a four-leaf clover t-shirt for Sweetie Darling.

Stop. right. there. Me, myself, and I had just days before purchased green fabric to use to make Alexis and Sweetie Darling each a four-leaf clover shirt. I happen to be resourceful and had found AFF's address, but wasn't really in a hurry to make the shirts since we have a few minutes until St. Patrick's day.

Anyway, I started out trying to divert AFF's attention by telling her that she really wanted a Niles shirt. Peeps, Niles is the cutest shirt ever. No lie. So I was hoping she would just take the bait and make my life easy. Nope. She continued to insist she needed the four-leaf clover shirt. So I sent her a little message.

"Do what you want, woman. You obviously have a talent for ruining surprises.."

Her reply? "Karen told you?"

Just to be clear, I'm pretty sure you could tell Karen the nation's most secret of secrets and she'd be able to keep it. I think there's a rule that the more kids you have, the better you get at witholding information. OF COURSE Karen didn't tell me. What was she going to do? Take a break from her busy day just for the sole purpose of emailing me that AFF was sending us a package? Silly AFF. Nobody can ruin multiple surprises simultaneously like she can.

Anyhoo, Alexis is having a spectacular Valentine's Day thanks to a certain Sweetie Darling.