Dear Alexis,

Today has not been one of your best days. It seems that Two invaded your little body sometime during the night, and wrecked havoc on your emotions all. day. long. I knew this morning when you came toddling into my room, all sorts of crabby, that it was going to be a rough one for you.

First, we fought over the television. Apparently, those moments during Sesame Street when Zoe and Elmo are not on the screen do not count as Sesame Street moments. TiVo is our good friend and managed to find Zoe and Elmo for you, but not before you had yourself worked into a tizzy. Then Zoe said something cute and clever, and you melted into a giggly pile of bright yellow Dumbo pajamas and poofy red blankets. Too soon it came time to change you into your school clothes, but you were having none of that; a category 3 meltdown ensued. I forced you into submission, and was rewarded with a gleeful, "Dora!" when you realized I had dressed you in your favorite Dora sweatshirt. To say I was dazed and confused at that point would be an understatement.

It was with a slight sense of relief that I dropped you off at daycare. I would have felt bad about abandoning you with your favorite daycare teacher while you were having a Two Day, but I knew you would adjust and manage to pretend that you weren't quite as miserable as you felt. You seem to have the ability to temper your emotions while in school, so really, it was a good place for you to spend your day.

And then came time to pick you up. All that Two that you had been battling into submission throughout the day came tumbling out of you, faster than you or I could keep up with it. It was a rough time you and I had while we ran into Wal-Mart for a few things. I tried to cheer you with a Starbucks hot chocolate, and it worked! You gleefully giggled as you sucked in a mouthful, then practiced for your future career as a fountain. I still am unable to find the funny in the mess you made all over your newly washed coat and so-new-I-hadn't-even-paid-for-them gloves. I guess I should just be glad you were able to find the funny in anything as Two munched on your soul.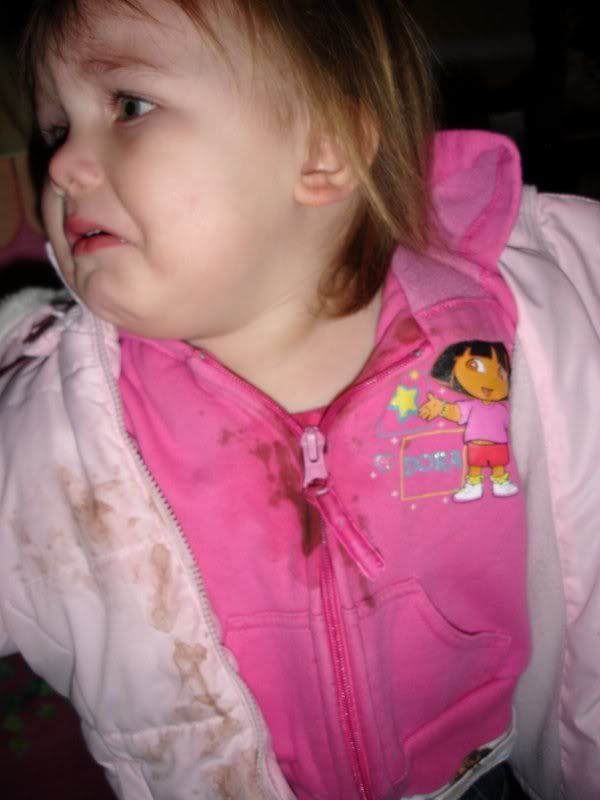 Between hot chocolate eruptions, you entertained your fans with kind words like, "Go away," "Be quiet," and "Stop it." Most people thought it was cute and funny, but I'm pretty sure the woman working at the fabric counter walked away a little hurt inside. She may have even had a tear in her eye. My dear Alexis, I heard a rumor that Wal-Mart will be discontinuing their fabric department. I do believe that woman had already heard your harsh words from others. You cruelly rubbed your salty words into her already open wounds.

To frustrate me further, you became quiet and your words turned to pleasantries when we encountered the woman I wanted to slap. For future reference, if anyone ever again asks you how you got the booboo on your head then proceeds to follow us around, lecturing me on the importance of protecting a child's head, you have my full permission to eat that person alive. While you're at it, feel free to scream, "It's a f@$^ing birthmark, you nosey b(*^h" as you gnaw on her wrinkley skin. That is the only context in which you will ever be allowed to swear. You should take advantage of it.

Once we returned home, the Twoness continued. You suckered Daddy into allowing you to watch an episode of Dora. Those peaceful thirty minutes were the proverbial calm before the storm. It seems that you intended to watch Dora ALL night long. When I didn't see things quite the same way, you went straight to a Category 5 meltdown. Through the tears and shrieks, you threw yourself to the floor, flung toys around, and even slapped me. That, my dear, did not bring out the best in me. You were very fortunate that I was in a shockingly patient mood, for otherwise, I can guarantee you that we would not have played that fun game of "Shake out the Grumpies." I don't know what I would have done, but I'm pretty sure you would still be sobbing. Instead, you are in my lap as I type this letter to you, kissing me all over my face.

Let's start anew tomorrow, Alexis. Can we please pick up right where we left off? I'm pretty sure my nose will want another kiss bright and early in the morning.

Love ya' (even when you're Two),

Mom