Remember this?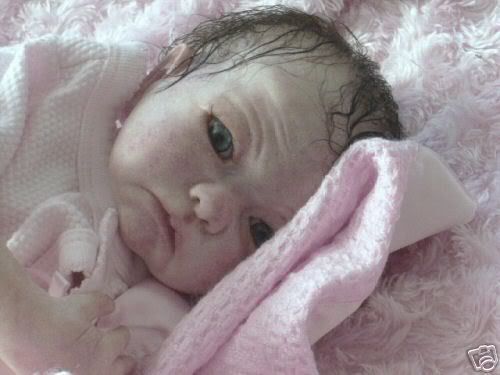 Yeah, I know. Who could forget it? Anyhoo, I totally got what I deserved for sharing that image with anybody. Last night I had the most wonderous dream about freaktastic dolls coming to life and attacking. Picture the Thriller video starring dolls. That thing up there? Starred in Michael Jackson's role.

Somewhere in the midst of this dream, my own personal roving Toddler apparently decided she was so over her own bed and wandered into our room. She brought her sweet little baby doll with her. I don't know exactly what transpired since I was busy protecting my face from evil doll claws, but I do know that when I woke up at 3:00 am, there was a FREAKIN' DOLL ON TOP OF ME.

No lie, Alexis' stuck her stupid doll on top of me before she went around to Mr. Husband's side of the bed to climb in.

Much screaming.

Not much sleeping.