Lately I've made it a habit to take Alexis to the park after work so that she can expend some energy flying up and down a slide instead of blazing a path of destruction through my living room. If I'm short on time, I go to a really nearby park that has a pretty decent little setup going on. So decent, in fact, that many of the neighborhood teens think it's a great place to hang out. I'm pretty sure their attraction to it has less to do with the Clifford slide and more to do with the thick woods that are probably just perfect for a beer hole.

Side note: As a former North Dakotan who knew nothing of what kids do in the woods, I had no clue about this whole beer hole phenomenon until very recently. I was schooled by a co-worker who told me that Burgh teens dig holes in the woods for use as beer/cash exchange drop-off points. Do you hear that Alexis? I KNOW ABOUT THE BEER HOLES. Don't even think about trying it.

Anyway, today there was a whole cluster of angst-ridden teens hanging out under a picnic pavilion a few feet from the slides. To my right was my Pebbles ponytail wearing toddler saying things like:

"Ook, Mommy!"

"I slide fast!"

"HI, MOMMY!"

"I want hug!"

To my left, the lone girl amongst the five boys was saying things like:

"My Mom is such a bitch."

"She never catches me when I lie."

"She's so stupid."

"I hate my Mom."

Could y'all do me a favor and please shoot me before my toddler turns into that?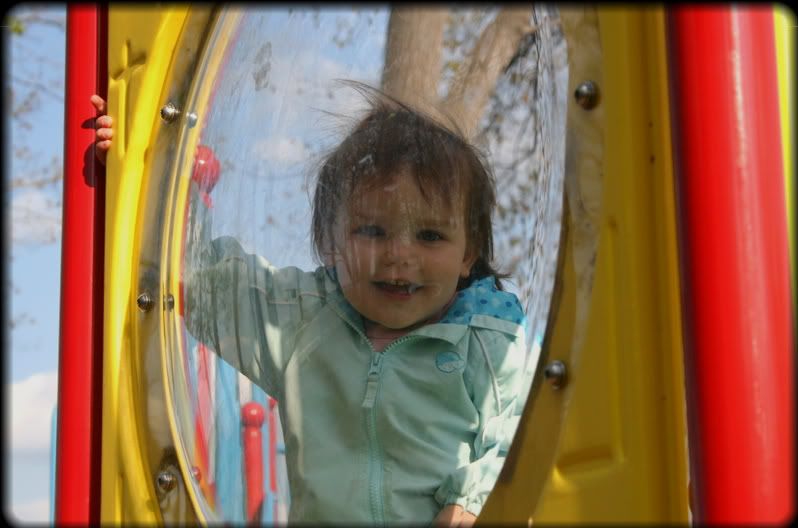 By the way, there is a new post up over at Burgh Mom.