A funny thing happened this past weekend--I woke up and suddenly realized that somebody had shoved September off a cliff and replaced it with October. Hello, holiday season!

It's no secret I love Christmas, but there's something I love EVEN MORE. It comes with fun costumes, spooky decorations, and . . . and . . . AND CHOCOLATE! You can try to tell me it's a pagan holiday and blah, blah, blah, but when I think Halloween? I think candy! And woohoo! I have a kid who is old enough to Trick or Treat, meaning I can get strangers to give me her candy. Better yet, I have an alien kid who doesn't like junk food, so I won't even have to fight her for those Snickers bars!

I might be a little bit excited about this. Ahem.

In honor of the start of The Wonderful Holiday Season, Alexis and I have started with the decorating. Um, yeah, I'm a dork and decorate for Halloween. Not as much as I would like, mind you, but I certainly decorate more than average.

We started by erecting a little cemetery in our front yard. We do it every year, so it's really not all that interesting. Nor is the giant inflatable ghost or the giant inflatable, uh, guy-like thing. We throw in a few wispy light-up ghosts, skeletons, and a bunch of pumpkins and it's all good.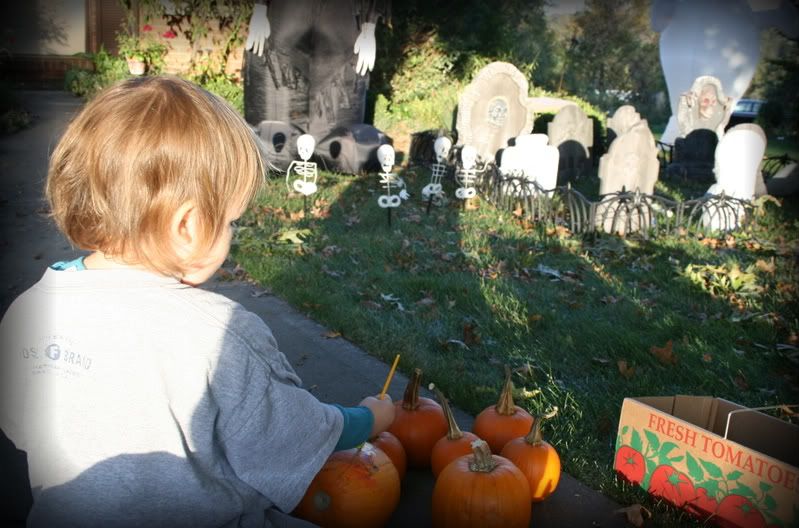 Well, it's all good except for the fact that, of course, the tender-hearted tiny person is totally a chicken and is scared to death of most of my decorations. Instead of actually helping me decorate, Alexis spent her afternoon just outside of the magical invisible bubble looking on. She maintained a safe distance from the entire shebang, never letting on that she was freaked out, but being very sure to not take even a single step towards the "scary stuff."

I don't do "cute" at Halloween. There will be no teddy bears donning cute little ghost costumes. Nor will there be cute little black kittens with friendly witches and smiling bats. I want death, blood, guts, and creepy crap. I want HALLOWEEN. I'll tone it down a teeny tiny bit for the little coward, but she really needs to get with the program.

I have a feeling she just might come around to my way of thinking.